COMPANY PROFILE
GENSHINCHON INTERNATIONAL TRADING LIMTED was founded in the early nineties, who has been doing a professional work of machinery electronic products development, sale, and service. GENSHINCHON's headquarter is in Hongkong, and has branch offices in Beijing, Shanghai and Ningbo . As the tenet says, "Sincereness, Faith, and Co-thriving", GENSHINCHON has been doing all the best to exploit the NC machine tool market, and won a lot of customer's trust all around the country.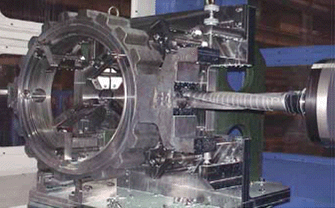 According to the business guideline, to promote excellent hi-tech products and provide perfect technical service, GENSHINCHON always keep up with the technology trend of the leading countries, and introduce the advanced machining technology of the world leading level to the domestic market. Currently, in addition of running the foreign trading business of Japanese vertical/horizontal machining center, vertical/horizontal NC lathe, horizontal boring and milling machining center, NC grinder, etc., GENSHINCHON also deals diverse kinds of machinery accessories. Through detail research and analysis, GENSHINCHON adapted the advanced foreign technology to the practical Chinese manufacturing environment, to serve all customers of different industries with perfect solutions before and after sales. The solutions must be designed professionally to provide comprehensive function, competitive price, and durable operation with with reliability and high precision.
GENSHINCHON has developed the agent service with many well-known Japanese machine tool makers, e.g. NIIGATA , OKUMA, KURAKI, O-M, SHI, etc. Moreover, GENSHINCHON has abundant experience of cooperation with many other famous firms, to serve the customer with total solutions, including gauge, auxiliary, special machine, technical renovation, etc.
GENSHINCHON's success can not depart from his true-hearted, comprehensive and precise service of consultation, training, maintenance covering all the sales steps.
In pre-sales consultation, GENSHINCHON's professional sales engineer team would gather all customer's all opinion in detail, e.g. the special requirement of production, then propose to them with the most suitable model, specification, and process, etc. for their reference. We could furthermore provide turn-key service as the customer requires.
When the equipment was delivered to the customer's place, GENSHINCHON would dispatch experienced engineers, or to accompany with the vendor's engineers, to take the installation and trial-run. The engineers would also train up the customer's operators of related skills, to help the customer to make good use of the equipment as quickly as possible.
GENSHINCHON has established 2 maintenance service and technical support centers in Beijing and Shanghai respectively, by which a quick response of the customer's requirement could be achieved. So, the professional engineers could be dispatched timely to the locale, to help the customer to solve diversity of issues occurred in the production.